HWM-50 small diameter inner wall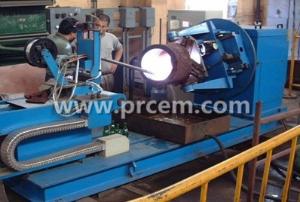 Types and specifications:
HWM-50, minimum diameter: diameter 50mm, the maximum welding welding depth: 1500mm
The equipment uses for the small diameter steel pipe inner wall welding machine is mainly used for automatic welding inner wall and the outer surface of various steel, mainly used in automatic welding valve, petroleum and petrochemical, chemical machinery and other industries all kinds of material of steel pipe.
Welding process
Argon arc (TIG/ hot wire TIG/TT)
Cold metal transfer welding (CMT)
Pulsed MIG/MAG, MIG/MAG DC
Other
The welding quality: To meet the requirements of welding quality grade I weld; To meet the requirement of weld dilution rate; To meet the mechanical property test, internal grinding, corrosion and other requirements.
For more information about technical parameters detailed please call, letter inquiries Ningbo Bai hua!