BH pressure roll pipe welding positioner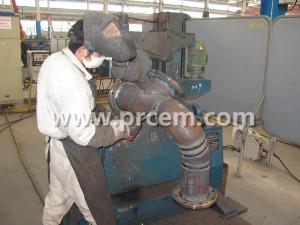 The welding positioner is a kind of welding machine with pipe and pipe, pipe and flange, curved tube, T shaped tube, different caliber and center of gravity shift.. The device can clamp pipe or flange and as needed to make the workpiece rotating or tilting to a reasonable position welding, the machine mainly frame, roller rotating mechanism, clamping arm lifting mechanism, inclination and turning mechanism, electrical control and other parts of the composition. The welding positioner of the roller type pipe can also be combined with the welding machine (operating machine, welding power supply, etc.) and the automatic welding machining center of the pipe flange.
Main performance overview
1 frame: welded steel, four anchor bolt fixing the whole equipment. 2 roller rotary mechanism: by the frequency conversion speed motor drive reducer variable speed, driven by the gear drive to rotate two active roller. 3 clamping lift mechanism: the motor drives the reducer box to rotate the screw rod to rotate and drive the clamp arm (and the passive pressing roller on the arm) and move the screw rod.. In the transmission chain, the overload protection device is arranged in order to prevent the motor driver overload.. The passive compression roller is welded with a conductive brush. 4 tilting mechanism: the motor driven by the belt brake, through the reduction gearbox, the fan gear and so on deceleration drive, the roller box seat at both ends of the bearing block for two-way 45 ~ 0 degrees tilt. 5 electrical control: from the electronic control box, hand controller, foot pedal controller, electric control box with automatic welding electric control interface, can connect with welding machine, automatic welding.
| Specification model | BH-426 | BH-630 |
| --- | --- | --- |
| Processing tube diameter | Φ114-426mm | Φ325-630mm |
| Drive rotation speed | 0~800mm/min | 0~800mm/min |
| Motor power | 2.2KW | 3.0KW |
| Operation mode | foot pedal / hand control box | foot pedal / hand control box |
| foot pedal / hand control box | 0~45° | 0~45° |
| Bottom center high | 750mm | 900mm |
| Automatic change mode | Automatic | Automatic |
| Maximum load bearing | 800KG | 1200KG |