PFW Pipe-Flange 12/16/24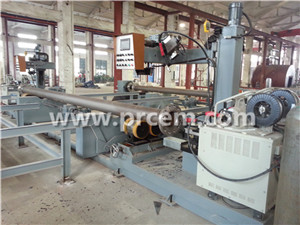 Model:PFW-12/16/24
Model specification: Pipe diameter applicable for PFW-12: φ40-φ325mm, pipe diameter applicable for PFW-16: φ40-φ426mm, pipe diameter applicable for PFW-24: φ60-φ630mm
Use: Mainly used for straight pipe-flat flange insert joint welding and straight pipe-hubbed flange butt joint welding in various industries such as shipbuilding, petroleum, chemical, iron-tower building and so on.
Welding technology:GTAW, FCAW/GMAW, configured according to requirements.
Welding quality: Fillet welding meets the welding angle height and pressure test requirements. Butt joint welding meets the requirements of grade II welding, welding flaw detection qualified rate 98% and mechanical performance test.
Basic structure:
No

Name

Specification

Pipe diameter applicable

Applicable pipe length

unit

Qty

1

Welding machine main parts

\

Φ40-φ325mm

Φ40-φ426mm

Φ60-φ630mm

2-6m

2-9m

2-12m

pcs

2

2

Welding power

optional

Pcs

4

3

Integrated track

\

Set

1

4

Matching trolley

2T

pc

0或1