FMG-800/1000/1200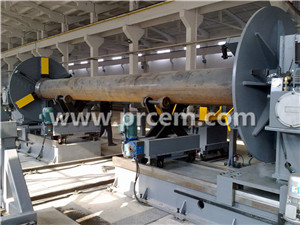 Model:FMG-800/1000/1200
Model specification: Pipe diameter applicable for FMG-800: φ168-φ830mm, pipe diameter applicable for FMG-1000: φ168-φ1016mm,pipe diameter applicable for FMG-1200: φ168-φ1220mm
Use: Mainly used for positioning welding before straight pipe-flange welding in various industries such as shipbuilding,petroleum, chemical, iron-tower building and so on.
Machine structure: ①main pipes fitting-up machine ②main pipes fitting-up machine track ③pipe towing trolley ④welding power(optional)
Equipment selection: There are two kinds of technical structures: common type and smart type. Compared with common type, the smart type has the following features: ■ Fitting-up nose travel by servo positioning to guarantee the workpiece length positioning accuracy after fitting-up. Length and size are set up and displayed by man-machine interface. ■ When fitting up the straight pipe and flat welded flange, guarantee the welding line distance of the two pipe ends and flange is the same. When fitting up the straight pipe and high neck flange, make sure the strict counterparts clearance requirements. ■ Guarantee the fitting-up machine nose repeat positioning accuracy in large amounts of fitting-up machines.
Technical parameter:
Chuck rotating angle

360°(scale identifies)

Concentricity of flange

in both ends

0.5mm

Flange positioning

Using flange hole positioning

Verticality of flange surface

and slideway surface

0.5mm

Fitting-up workpiece

specification

As per customers' requirement

Welding power

FCAW/GMAW machine(optional)

Fitting-up bracket lifting and

lowering device

Manual lifting and lowering device(short diameter), electrical lifting

and lowering device(long diameter)

Control mode

PLC+ touch control screen+

manual control box(smart type)/ manual

control box(common type)